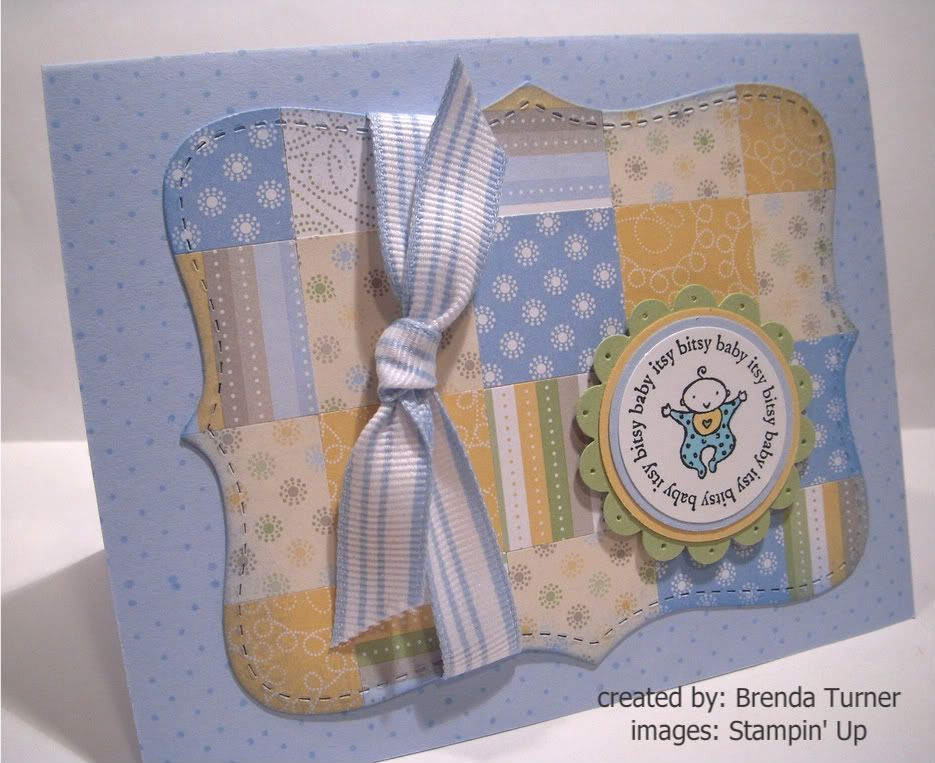 I got in some new goodies today from my last Stampin' Up order. I finally broke down and bought the top note die, and I am so glad I did, love it!
I was lucky today and spent the day stamping and visiting with a friend (Hi Jackie) and I had a blast. I didn't get a lot done, but that is just fine we had fun talking and going to lunch and I squeezed in a bit of stamping and made this card.
So on to my card, I got the idea from Diane from
Stamping with Di
to make a quilt and then cut it out with the die. Diane did a wonderful tutorial on it
here
. I used Delicate Dots from the Sale-A-Bration catalog to make the quilt pieces, I used a 1" square punch as I didn't have a 1 1/4" like Diane used so I needed to add a extra roll of squares to the top and side, I also needed to make the white base 4" x 5". The card base is bashful blue that I stamped with Itty Bitty Backgrounds in bashful blue. I sponged the "quilt" with bashful blue . The medallion is from Figures of Speech (retired). The layers of the medallion are so saffron, bashful blue and certainly celery. This card is an all Stampin' Up card except the little bit of coloring on the baby. I also made this card for two challenges on SCS, Thursdays ways to use it (WT206) and today's limited supplies (LSC208).
Thanks fro stopping by.
Brenda