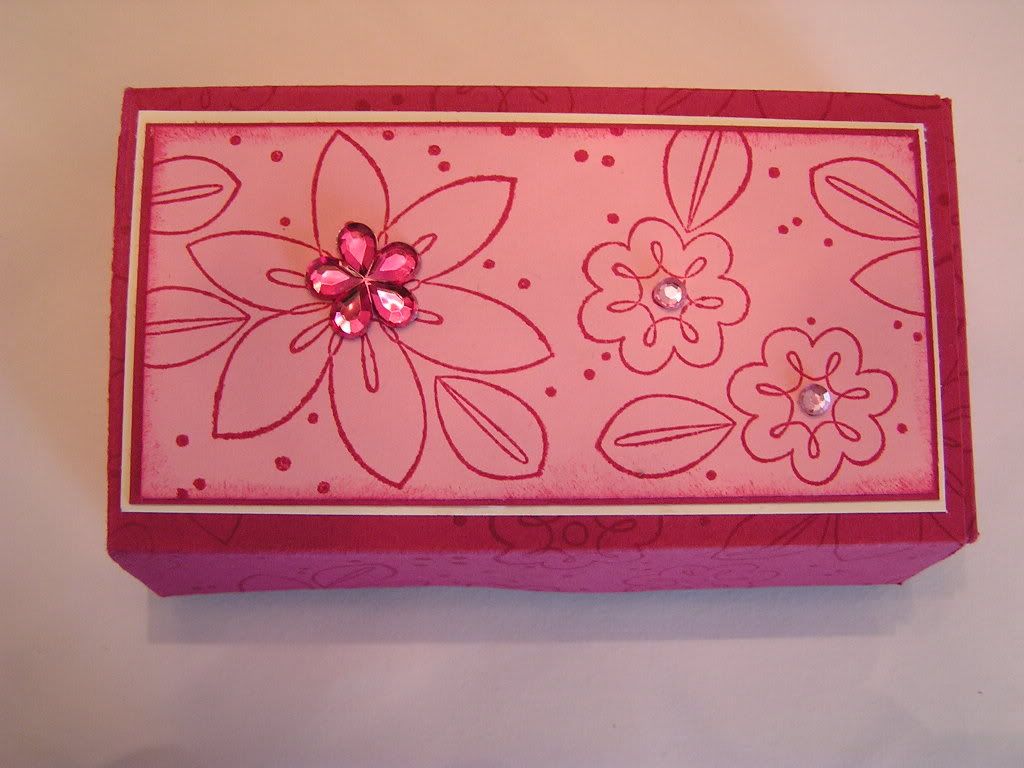 Do you remember this tissue holder, well here is the tutorial for it. This is my first tutorial so if you have any questions please feel free to email me.
Supplies you will need to make this tissue holder are: one sheet of card stock, scoring tool, bone folder, 1 1/4 circle punch, strong tape or adhesive, and Velcro or a magnet closer.
To make the tissue holder you need to start with a piece of card stock that measures 6 1/2 by 10 1/2. If you want it stamped now would be the time to do that. I wheeled mine with Basics Outline using Purely Pomegranate ink.

Next you need to score the long side at 1", 3 1/2", 4 1/2", 7", and 8". Then you need to score the short side at 1" and 5 1/2". I used a bone folder to make the folds nice and crisp. Now you need to cut away the areas marked red in the first photo. This will be the end that starts with the score at 1". Now you are ready to fold it up and punch the half circle as shown in the third photo. You next need to tape it on the sides. Attach Velcro or a little magnet for a closer. Here is the fun part, decorate it the way you want and you are ready to go. My original idea was to have the tissues pop up through a slit made with the word window punch, but unfortunately I was unable to find any purse size tissues that popped up. If you find any please let me know. Thanks for looking.
Brenda